by Dakota, PC Manager, Kentucky
A solid work ethic was a core tenet of my upbringing; the idea that hard work leads to rewards and winning comes from outworking your opponents. As I went through high school and college, I wanted to find a career that embodied this principle. Managing a CED Profit Center is just that career. If I work harder than my opponents I will win orders, leading to greater profit sharing for my team and me, and greater opportunities for my career. The first step to realize the Profit Center manager career path is the CED Management Training Program.
When I entered the Management Training Program I expected to be way behind my classmates. I had no electrical background (I majored in Political Science), zero familiarity with the electrical distribution industry, and zero business experience (again as a Political Science major I didn't take accounting or marketing courses). Thankfully, none of that mattered. CED taught me everything I needed to know to succeed. I learned about the products and solutions we sell, how to manage a business, and lead a team. The knowledge I gained is important, but even more so are the countless friendships I made.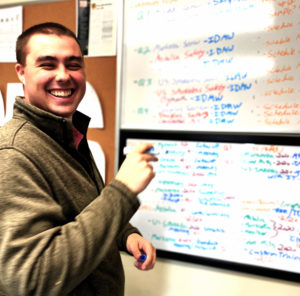 When you're accepted into the training program, numerous trips lay in your future. I have been to Dallas over five times, Milwaukee, Atlanta, Boston, Omaha, Chicago, Charlotte, Houston, and Austin. While on these trips you become very close with your classmates from across the country. One of my best friends within CED manages a Profit Center in Washington State. He and I talk regularly, not only about business, but about life. You also develop a nationwide network that you can call on for advice and guidance. I now have mentors in Dallas, Chicago, Nebraska, and Florida that I can call for direction.
This has all allowed me to grow my worldview. My Profit Center focuses on the industrial market segment. Because of my training and the connections I have made with various suppliers and coworkers, I see just how interconnected we all are. Business I conduct in my market can have an impact on my network due to the extended supply chain we all interact with; it makes my small town feel much bigger.